Vaccine Shedding, Cited Article by Inside Vaccines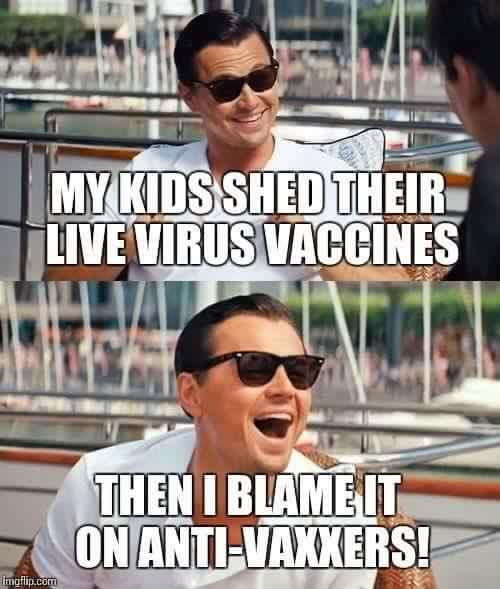 Infant Gets Measles from the Vaccine – the Inquisitr
Measles Outbreak Traced Back to Fully Vaccinated – Huffington Post
Smallpox Vaccine Shedding – Live Science
Polio Outbreak Sparked by [Live Virus] Vaccine – NBC News
Child Survives Smallpox Vaccine Reaction (Eczema Vaccinium) – Reuters
Live Virus Vaccines and Vaccine Shedding – NVIC
This report covers a list of live virus vaccines used in the US, including: MMR, Flu, Rotavirus, Chickenpox, and Oral Polio (not currently in use)
---
Studies
Chickenpox: Vaccine Oka Varicella Meningitis in Two Adolescents
"Like wild-type varicella-zoster virus, however, vaccine Oka (vOka) varicella can establish latency and reactivate as herpes zoster, rarely leading to serious disease, particularly among immunocompromised hosts. Previous cases of reactivated vOka resulting in meningitis have been described in young children who received a single dose of varicella vaccine; less is known about vOka reactivation in older children after the 2-dose vaccine series. We present 2 adolescents with reactivated vOka meningitis, 1 immunocompetent and 1 immunocompromised, both of whom received 2 doses of varicella vaccine many years before as children. Pediatricians should be aware of the potential of vOka varicella to reactivate and cause clinically significant central nervous system disease in vaccinated children and adolescents."
Sibling Transmission of Vaccine-Derived Rotavirus (RotaTeq) Associated With Rotavirus Gastroenteritis
Chicken Pox Vaccine Causes Shedding
Measles Outbreak in IL High School with 100% Vaccination Rate – CDC link
Outbreak of Measles Among Persons with Prior Evidence of Immunity
New York, 2011. "The index patient had 2 doses of measles-containing vaccine; of 88 contacts, 4 secondary patients were confirmed who had either 2 doses of measles-containing vaccine or a past positive measles IgG antibody. All patients had laboratory confirmation of measles infection, clinical symptoms consistent with measles, and high-avidity IgG antibody characteristic of a secondary immune response."
Canadian Child gets Measles from Vaccine
"A five-year-old Canadian-born boy with a history of a hematopoetic stem cell transplant three years previously received live attenuated measles, mumps, and rubella (MMR) vaccine. Over the subsequent 7 to 14 days, he developed an illness clinically consistent with measles."
Brother-to-sister transmission of Measles following Vaccination- The Lancet
Measles Detected Following Vaccination – Science Direct
"We report here the case of a child presenting with fever 8 days after vaccination with a measles–mumps–rubella vaccine. Measles virus was isolated in a throat swab taken 4 days after fever onset. This virus was then further genetically characterised as a vaccine-type virus. Fever occurring subsequent to measles vaccination is related to the replication of the live attenuated vaccine virus. In the case presented here, the vaccine virus was isolated in the throat, showing that subcutaneous injection of an attenuated measles strain can result in respiratory excretion of this virus."
Sibling Transmission of Vaccine-Derived Rotavirus (RotaTeq) Associated With Rotavirus Gastroenteritis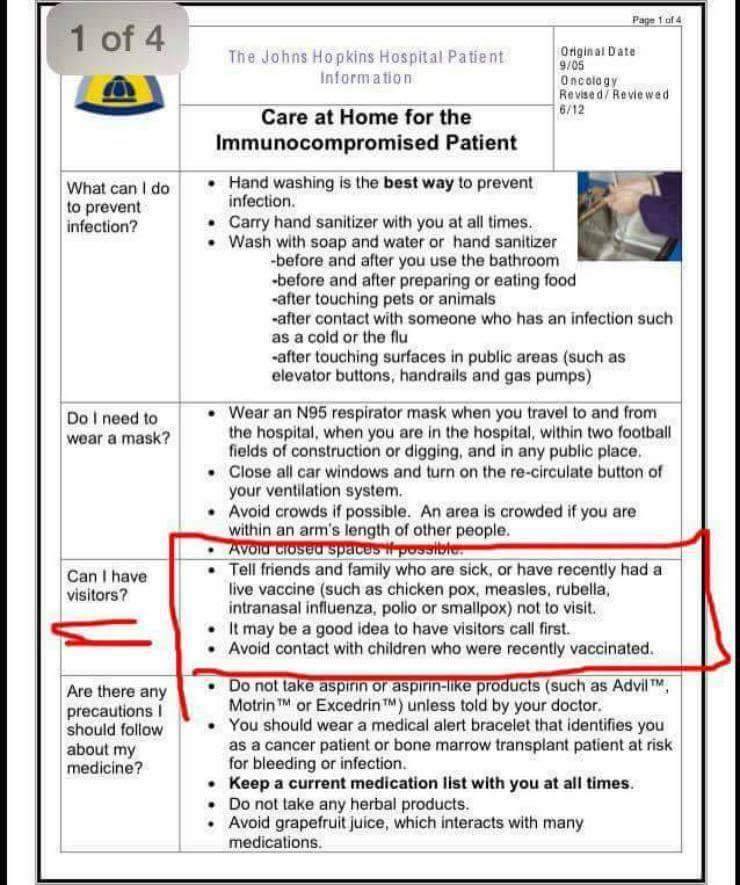 Detection of measles virus RNA in urine specimens from vac recipients
( J Clin Microbiol. 1995 September; 33(9): 2485–2488 )
Yellow Fever Vaccine Transmitted to Breastfed Infant
"CALGARY, Alberta, Feb. 9 (UPI) — A Canadian doctor reports breastfeeding seems to have transmitted a mother's live-virus yellow fever vaccine virus to her baby."
Cause of vaccine associated measles five weeks post immunization.
British Columbia, Canada, 2013
"The incubation period of measles is typically eight to 12 days from exposure to rash onset, with a range from seven to 21 days. Public health interventions are based on this established incubation period for determining the epidemiological links between cases and for esti-mating periods of exclusion for contacts in high risk settings [5,6]. Based on our review of the literature, this report documents the first case of MMR vaccine-associated measles, 37 days post-immunisation, well beyond 21 days and the routine 30 days post-MMR immunisation period used by the Canadian adverse event following immunization (AEFI) surveillance system."
Detection of measles virus RNA in urine specimens from vaccine recipients. Journal of Clinical Microbiology, 1995
http://www.ncbi.nlm.nih.gov/pmc/articles/PMC228449/
Failure to reach the goal of measles elimination. Apparent paradox of measles infections in immunized persons. Arch Intern Med, 1994
http://www.ncbi.nlm.nih.gov/pubmed/8053748
Outbreak of Measles Among Persons With Prior Evidence of Immunity, New York City. Oxford Journals, 2010
http://cid.oxfordjournals.org/content/early/2014/02/27/cid.ciu105
Horizontal transmission of the Leningrad-3 live attenuated mumps vaccine virus. Vaccine, 2006
http://www.ncbi.nlm.nih.gov/pubmed/16266774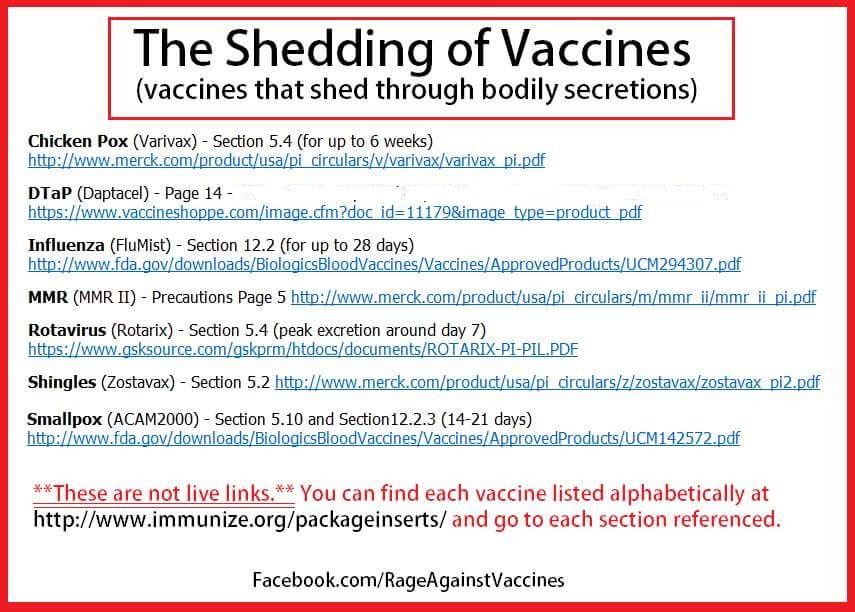 Transmission of mumps virus from mumps vaccinated individuals to close contacts Vaccine, 2011
http://www.ncbi.nlm.nih.gov/pubmed/21983359
Mumps vaccine virus transmission. Vopr Virusol, 2013
http://www.ncbi.nlm.nih.gov/pubmed/24772647
Comparison of the Safety, Vaccine Virus Shedding, and Immunogenicity of Influenza Virus Vaccine, Trivalent, Types A and B, Live Cold-Adapted, Administered to Human Immunodeficiency Virus (HIV)-Infected and Non-HIV-Infected. Adults Oxford Journals Medicine & Health The Journal of Infectious Diseases, 2000
http://jid.oxfordjournals.org/content/181/2/725.full
Detection of fecal shedding of rotavirus vaccine in infants following their first dose of pentavalent rotavirus vaccine. Vaccine. 2011
http://www.ncbi.nlm.nih.gov/pubmed/21477676
Rotavirus shedding: "We conducted a survey on the presence of RotaTeq vaccine viruses in infants hospitalized with respiratory infection, and detected shedding in 17% of children (<2 years of age) who had ever received the vaccine. The latest detection was at the age of 8 months. We conclude that asymptomatic long-time shedding of RotaTeq viruses is not uncommon."
https://www.ncbi.nlm.nih.gov/pubmed/25260041
Rotavirus vaccines: viral shedding and risk of transmission. Lancet Infect Dis. 2008
http://www.ncbi.nlm.nih.gov/pubmed/18922486
Sibling Transmission of Vaccine-Derived Rotavirus (RotaTeq) Associated With Rotavirus Gastroenteritis. Pediatrics, 2010
http://pediatrics.aappublications.org/content/125/2/e438
Pertussis Infection in Fully Vaccinated Children in Day-Care Centers, Israel. Emerging Infectious Diseases, 2000
(note that the vaccine causes asymptomatic carriers in those re-exposed but the aP vaccine itself, currently in use, does not shed. More information can be found here.)
http://www.ncbi.nlm.nih.gov/pmc/articles/PMC2627963/pdf/10998384.pdf
The Case against Universal Varicella Vaccination International Journal of Toxicology, 2006
http://www.whale.to/vaccines/goldman.pdf
Outbreak in Vaccinated NBC 4 New York, April 2014
http://www.nbcnewyork.com/news/local/HobokenCollegeCampusMumpsOutbreakFraternityMembers255738021.html
---
ThinkTwice.com provided this list of studies showing that the vaccine caused the illness it was meant to prevent.
Nkowane, et al, "Vaccine-Associated Paralytic Poliomyelitis, US 1973 through 1984, JAMA, 1987, Vol 257:1335-1340.
Quast, et al, "Vaccine Induced Mumps-like Diseases", nd, Int Symp on Immun, Development Bio Stand, Vol 43, p269-272.
Green, C et al, "A Case of Hepatitis Related to Etretinate Therapy and Hepatitis B Vaccine", Dermatologica, 1991, 182(2):119-120.
Shasby, DM, et al, "Epidemic Measles in Highly Vaccinated Population", NEJM, Mar 1977, 296(11): 585-589.
Tesovic, G et al, "Aseptic Meningitis after Measles, Mumps and Rubella Vaccine", Lancet, Jun 12, 1993, 341(8859):1541.
Johnson, RH, et al, "Nosocomial Vaccinia Infection", West J Med, Oct 1976, 125(4):266-270.
Malengreau, M, "Reappearance of Post-Vaccination Infection of Measles, Rubella, and Mumps. Should Adolescents be re-vaccinated?" Pedaitric, 1992;47(9):597-601 (25 ref)
Basa, SN, "Paralytic Poliomyelitis Following Inoculation With Combined DTP Prophylactic. A review of Sixteen cases with Special Reference to Immunization Schedules in Infancy", J Indian Med Assoc, Feb 1, 1973, 60:97-99.
Landrigan, PJ et al, "Measles in Previously Vaccinated Children in Illinois", Ill Med J, Arp 1974, 141:367-372.
NA, "Vaccine-Associated Poliomyelitis", Med J Aust, Oct 1973, 2:795-796.