As consumers become more aware of daily chemical exposures in their homes, small mattress companies are filling the new demand. But confusing and misleading sales strategies common in the industry have trickled over into the natural and organic mattress market as well. With the help of industry insider Mr. Wilson, owner and CEO of Mattresses and More in Florida, this article will teach you what you need to know to buy safe mattresses for your whole family.

You will spend over 3000 hours with your face planted against your bed over the next 12 months, and your babies may spend over 4000 hours breathing it in, so first you'll want to learn about the dangerous chemicals that are off-gassing from it. While corporate entities and some government regulatory groups claim the chemicals used are safe, numerous studies prove differently. Some experts even point to chemicals in the beds to account for some SIDS cases. According to the Chicago Tribune, their investigation brought varying degrees of nonchalance from the mattress manufacturers and importers, while chemical experts argued safety concerns:

"Summer Infant Inc., the importer of the Babies R Us branded crib and bassinet mattresses that contained chlorinated tris, noted that the mattresses "are in a sealed impermeable plastic covering," which "ensures no exposure of the inner mattress foam to the child."
Responding to questions from the Tribune, the company wrote, "Simply put, the statements made are misleading and reckless in that they imply a health hazard that doesn't actually exist."

But Birnbaum and Heather Stapleton, a Duke University chemist who studies flame retardants, questioned whether any foam product can be sealed completely. They said chemicals escape when they vaporize and seep through seams or holes and get into air and dust.

And Inez Tenenbaum, chairman of the U.S. Consumer Product Safety Commission, stressed that she sees no need for flame retardants in children's mattresses, which can be protected with inherently flame-resistant wraps or barriers.
ingredients
Flame Retardants
Flame-retardant chemicals have been used to meet a 1975 California flammability standard that requires polyurethane foam in furniture to withstand a small open flame for 12 seconds. That law was specific to California, but the industry decided to use chemicals to meet this requirement across the country. Later, California changed its laws, allowing manufacturers to meet requirements without chemicals (source). Flame retardants in furniture come with a great risk, having been linked to reduced IQ, learning disabilities, reduced fertility, thyroid disruption, and cancer (EPA source here). There are even firefighter organizations speaking out against the use of fire retardants (sources here, here, here). From the Huffington Post article Firefighters Sound Alarm on Toxic Chemicals:
"Our first responders and firefighters are disproportionately exposed and affected by the chemicals that are in our homes," said Lindsay Dahl, deputy director for the non-profit Safer Chemicals, Healthy Families, one of the organizations participating in the campaign. "They serve, just like pregnant women and children, as canaries in the coal mine for the health effects we're seeing from chemicals we're exposed to every day."

To fight a fire means confronting a toxic soup of burning chemicals and their byproducts, including dioxins, furans and formaldehyde. Many of the most toxic fumes released by today's fires actually come from chemicals added to everything from clothes to couches to computers in an effort to retard flames. But, as an investigation by the Chicago Tribune uncovered, those additives may offer no meaningful fire protection.
Foam
Foam mattresses including memory foam and polyurethane foam, are the most toxic of all mattress materials. It can off-gas VOC's for the life of the mattress, causing little to no obvious discomfort to some and a small percentage of individuals experience respiratory irritation, headaches, and nausea. Long-term exposure of VOCs are linked to central nervous system damage, organ damage, and cancer. Also used in making the foam are PBDE's, Formaldehyde (one of the most dangerous commonly used substances in use in US manufacturing), methylene chloride (a potential carcinogen), Phthlalates, and CFC's.
Other Ingredients and Chemicals:
Conventional Cotton is sprayed with more pesticides than any other crop in America. As one of the top four GMO crops, it is also extremely damaging to the environment.
Boric Acid is linked to fertility issues and used to kill cockroaches (source)
Synthetic Latex (SBR, Styrene Butadiene Rubber)
Mattress Materials
Looking into the ingredients companies use for their mattresses is not an easy task to take on. One blog had this to say:
"Neither Serta, nor Sealy, nor Simmons Comforpedic mention anything on their website about health, chemicals or certifications. Tempurpedic does not have any information on their website that we could find about chemicals, VOCs or product safety, other than to say odors are harmless. The other discount store brands, BodiPedic, Novaform and Sleep Science also do not mention chemicals or VOCs in product materials" (source)
So I took it a step further than the company websites and spoke with Mr. Wilson, CEO and owner of Mattresses and More, a mattress and furniture retailer that ships nationwide. When Wilson first began the search to find a line of natural mattresses to carry in his stores, he was hitting dead ends. Many of the manufacturers' representatives he was working with at the time could, or would, disclose the materials and chemicals used in the manufacturing process. Some representatives did not appear to  and told him the chemicals were required by law. He called one manufacturer and asked a representative about finding a chemical-free line of mattresses and got this response: "oh, hell…"
He did discover some smaller companies aimed at natural and organic mattress sales, but he ran into a second roadblock… terminology. This was nothing new to the seasoned mattress store retailer, but it is all Greek to the average consumer. One common trick borrowed from the food industry is to claim a single "100% organic" ingredient, but failing to mention that they added other non-organic ingredients during the process. The claim that the mattress is "made with 100% organic cotton" would be true, but does not mean the rest of the mattress is made without chemicals. The same applies with latex mattresses. Some companies use "fillers" to create a latex-chemical blend and decrease the costs (Dunlop and Talaylay excluded). And, "flame retardant free" does not mean it's free of other chemicals, or additives. This goes as far as what kind of glue they use.
Buying Natural
There are two ways to meet flammability requirements without chemicals, and that's by  using wool or latex, as both are naturally flame retardant. So if you're in the market to buy an organic mattress, you're looking at two options, a spring coil mattress or latex mattress. Spring coil is a great option for a child, for someone needing a firmer bed, or if you are choosing to use a wool or latex mattress topper. Latex mattresses are the best in customer satisfaction and even makes competition tough for the super comfy memory foam everyone is talking about (great comparison here).
When buying latex, your first step is to ask what kind it is. There are two natural kinds, Talalay and Dunlop. Dunlop, the firmer of the two, is less manufactured and requires less processing (and additives) than Talalay.  There are also
blended or bio-hybrid latex mattresses as well which have a synthetic (chemical) component – you will want to avoid those. Companies do this to lower their costs. Latex is made through a process that may require glues. The difference between the companies that do is where they get the latex and knowing what kind of glue or additives was used in the manufacturing process. I found that Savvy Rest is one of a few companies that disclose their source of latex and processing (here). In choosing your latex bed, here is some good advice from one blog: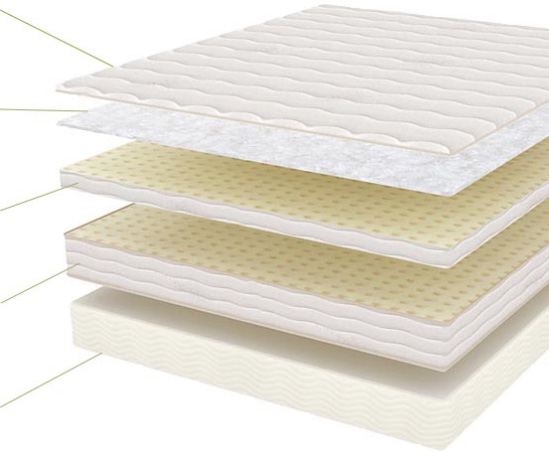 Nine out of every ten "natural latex mattresses" advertised are made solely of 100% dunlop latex, which is

fine if you're a back sleeper and prefer a firmer feel; however, studies show a top layer of talalay latex does a better job of relieving trigger points in your hips and shoulders, especially if you're a side sleeper. The optimal latex mattress design would be a 100% natural dunlop core, which is denser to prevent sagging, with a 100% natural talalay top layer for better pressure relief.
Sales Tactics In-Store
Mattress stores hire salesmen on a base salary plus commission, usually 8- 10%, and they often have weekly quotas to meet as well. The advice of our insider is to be wary and take your time. Discuss the beds, take detailed notes, then go home and research everything he said. A good salesman will give you good information that can be verified online when you get home. Any time a salesman pressures you with a time crunch or inventory ("our last one!"), that's a great time to walk out.
Three things you can ignore: the warranty,  and the sale. For the most part you can disregard the manufacturer's warranty and stores don't offer their own. Due to the strict requirements and the quality of the beds, the warranty is a gimmick that is almost never needed, or honored, by major manufacturers. One dirt scuff or half a cup of water spilled on it and the warranty is voided, so don't let the warranty factor into your decision. As for the sales, mattress stores are all expected to have big sales. However, the savvy buyer doesn't need a sale because you know to get the price you want, you just ask for it. All mattress stores will meet or beat the competitor's lowest price so it doesn't matter whether the mattress is on "sale" or not.
Mattress stores mark up their mattresses about twice the price, with some chain stores marking them up to 3x the wholesale price. So there's some good wiggle room for bargaining up to 50% on the average mattress. With natural and organic brands, you can negotiate down 20- 30% off the price tag. However, some manufacturers have a contract that the retailer not go below a certain price. If this is the case, you may still be able to negotiate for free delivery, sheets, pillows, or mattress covers.
Note: sales tactics do not apply to buying directly from the manufacturer.
Considerations
Life. The life of your mattress is primarily dependent on the kind of mattress you buy. A spring coil mattress from a good company and average use should last you 5 – 10 years (Consumer Reports averages 8 years), and latex will last you 10- 15 years (many will last 20 years). With perfect use, they can last much longer, but that is assuming you turn the bed as suggested every few months, don't use the side of the bed as a seat, and don't have kids jumping on it.
Transport. Latex mattresses are extremely heavy, plan for two strong adults to move the mattress. Also, without lifting straps to fold the bed like a taco, you may never get it through your door or up any stairs. My husband once got creative, tied the mattress with ropes like a gyro into a cylindrical shape, and pushed it end-over-end up the stairs. But that was a near-disaster for our chandelier, so I don't recommend that.
Firmness. Children's growing spines require a firmer sleep surface, so a best bet is a basic coil spring mattress. And whether you prefer firmer or not, if you sleep on your side you'll require a softer bed to avoid waking up with back pain.
Allergies. There are individuals out there allergic to wool and latex. Is this is the case for your family, you can opt for for the Intellibed. My friend Sarah the Healthy Home Economist raves about this one, despite it not being 100% organic.
Accessories
To save your mattress, a good waterproof cover is necessary. Your best option is a trusted chemical free company such as those listed below, but a BPA and Vinyl-free mattress cover like this one is another option that's slightly less expensive. Also vacuuming the mattress from time to time is recommended.
Remember that mattress covers, sheets, and pillows are also sources of chemicals, to a lesser degree. Companies that sell natural/ organic beds also have bed accessories. However, we get our organic sheet sets at Target, and a great alternative to organic cotton or latex pillows is a Buckwheat Hull Pillow. The sound it makes when you move around takes some getting used to, but for some, it's the best night sleep they've had.
If you are just not in a position to buy a new bed, you still have options. You can purchase a full zip-around cover to minimize off-gassing, and get a latex / organic wool mattress topper for your current bed.
There are a handful of companies out there that will disclose their manufacturing process, mostly small companies that specifically manufacture organic and natural furniture and mattresses. Those manufacturers do have additional supply costs for organic cotton, organic wool, and natural latex made without fillers, which you'll see reflected in the higher price tag.
Savvy Rest offers organic mattresses, beds and accessories, and can be found in mattress stores and prices vary, although they have a contract with retailers not to go below a certain sale price. Savvy Rest discloses the source of their latex on their website so consumers can be confident their product. This is the line of mattress available to retailers that Wilson chose for his store.
My Green Mattress is a small company out of Chicago that produces completely organic mattresses, bedding, mattress toppers and bed frames. They have turned down retail sales and sell direct. Spring coil twin beds start at $494 shipped, but they regularly have $50- $75 off coupons on their facebook page several times a year (usually on holiday weekends). I have had two of their mattresses for 4 years now that are still going strong and plan on buying another. What's great about their spring coil mattresses is that they are double-sided so can be flipped. Not many companies still make them that way.
Pure Talaylay Bliss, also known as Latex Bliss, can be found in some retail stores. They have a natural line starting at $1499, and you can search products and prices on their website. The company's claims are based in the Talaylay. They make no claims about being "organic" but claim to be free of latex additives, low levels of chlorides and formaldehyde, and meet OEKO-TEX standards Level 1.
Mr. Wilson had this to report about Latex Bliss: "when I went to look at these at the wholesalers show they stunk of chemicals, so I ran away from this brand."
On the other hand, my husband and I have been sleeping on this brand for 4 years and it nver had a smell (except the smell of latex the first day we got it) so I'm mixed on this one. We are still very happy with it, and it's even held up against my 3 kids jumping on it. However, we will be choosing Savvy Rest because a) it's actually organic, and b) you can open up the mattress to rearrange the layers depending on preferences instead of replacing an entire bed, you can order a layer of latex.
Intellibed. While I don't endorse this one, if you are just not willing to give up the Sleep Number Comfort to go full green, this is your best bet. I'll let you read Sarash's reviews on this one here and here.
Sleeping Organic twin natural latex beds begin at $795 and work up to $2350. Organic latex beds begin at $895 and works its way up to $3295 with their California King. Their website has reviews listed here. They also offer latex mattress toppers.

**Pricing as of 11/2016, based on the websites.
---
sources:
http://news.utexas.edu/2014/04/02/crib-mattresses-emit-chemicals
https://www.ncbi.nlm.nih.gov/pubmed/11999798
https://www.epa.gov/assessing-and-managing-chemicals-under-tsca/fact-sheet-assessing-risks-flame-retardants#concern
http://www.consumerreports.org/cro/magazine/2013/02/how-safe-are-flame-retardants/index.htm
https://www.epa.gov/sites/production/files/2016-05/documents/flame_retardant_fact_sheet_3-22-16.pdf
http://toxics.usgs.gov/regional/cotton.html
This is a great video but be aware that it's older so some things, like laws on flammability requirements, have changed: https://www.youtube.com/watch?v=aD9THU3eQEY
https://savvyrest.com/blog/cigarette-makers-poisoned-your-mattress
http://www.peopleforcleanbeds.org/boric_acid_risks.htm
http://www.chicagotribune.com/news/ct-met-flames-test-mattress-20121228-story.html
https://www.epa.gov/indoor-air-quality-iaq#Health%20Effects
www.rodaleinstitute.org/chemical-cotton/
http://greensciencepolicy.org/topics/furniture/
http://www.ewg.org/research/mothers-milk/health-risks-pbdes
https://www.epa.gov/formaldehyde/facts-about-formaldehyde
https://www.oeko-tex.com/en/consumer/why_ots100/faq_ots100/faq_ots100.html