Neurologic adverse events following vaccination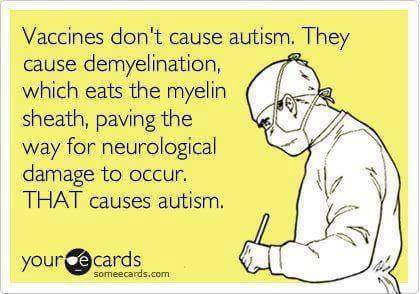 Dr. Green Mom
You may find numerous studies of neurological damage here as well:
https://theviennareport.us/aluminum/
A list of other studies compiled by Dr. Green Mom (you can find some of these studies by putting the title of the study into a search engine).
Nedar P R, and Warren, R J, "Reported Neurological Disorders Following Live Measles Vaccine", 1968, Ped, 41:997-1001.
Paradiso, G et al, "Multifocal Demyelinating Neuropathy after Tetanus Vaccine", Medicina (B Aires), 1990, 50(1):52-54.
Landrigan, PJ, Whitte, J, "Neurologic Disorders Following Live Measles-virus Vaccination", JAMA, Mar 26, 1973, v223(13):1459-1462.
Turnbull, H M, "Encephalomyelitis Following Vaccination", Brit Jour Exper Path, 7:181, 1926.
Kulenkampff, M et al, "Neurological Complications of Pertussis Inoculation", Arch Dis Child, 1974, 49:46.
Strom, J, "Further Experience of Reactions, Especially of a Cerebral Nature in Conjunction with Triple Vaccination", Brit Med Jour, 1967, 4:320-323.
Berg, J M, "Neurological Complications of Pertussis Immunization," Brit Med Jour, July 5,1958; p 24.
Bondarev, VN et al, "The Changes of the Nervous System in Children After Vaccination", Pediatria, Jun 1969; 48:20-24.
Badalian, LO, "Vaccinal Lesions of the Nervous System in Children," Vop Okhr Materin Dets, Dec 1959, 13:54-59
Lorentz, IT, et al, "Post-Vaccinal Sensory Polyneuropathy with Myoclonus", Proc Aust Ass Neurol, 1969, 6:81-86.
Trump, R C, White, T R, "Cerebellar Ataxia Presumed Due To Live Attenuated Measles Virus Vaccine," JAMA, 1967, 199:165-166.
Allerdist, H, "Neurological Complications Following Measles Vaccination", Inter Symp, Brussels, 1978, Development Biol Std, Vol 43, 259-264.
Finley, K H, "Pathogenesis of Encephalitis Occurring With Vaccination, Variola and Measles, Arch Neur and Psychologist, 1938; 39:1047-1054.
Froissart, M et al, "Acute Meningoencephalitis Immediately after an Influenza Vaccination", Lille Med, Oct 1978, 23(8):548-551.
Pokrovskaia, Nia, et al, "Neurological Complications in Children From Smallpox Vaccination", Pediatriia, Dec 1978, (12):45-49.
Allerdist, H, "Neurological Complications Following Measles Virus Vaccination. Evaluation of the Cases seen Between 1971-1977″, Monatsschr Kinderheilkd, Jan 1979, 127(1): 23-28.
Ehrengut, W et al, "On Convulsive Reactions Following Oral vaccination Against Polio", Klin Paediatr, May 1979, 191(3):261-270.
Naumova, R P, et al, "Encephalitis Developing After Vaccination without a Local Skin Reaction", Vrach Delo, Jul 1979, (7):114-115.
Goswamy, BM, "Neurological Complications After Smallpox Vaccination", J Ass Phys India, Jan 1969, 17:41-43.
Schchelkunov, SN et al, "The Role of Viruses in the Induction of Allergic Encephalomyelitis," Dokl Akad Nauk SSSR, 1990,315(1):252-255. [Vaccines contain viruses, too]
Walker AM, "Neurologic events following diphtheria-tetanus-pertussis immunization," Pediatrics 1988 Mar;81(3):345-349.
Shields WD, et al, "Relationship of pertussis immunization to the onset of neurologic disorders: a retrospective epidemiologic study," J Pediatr 1988 Nov; 113(5):801-805.
Wilson J, "Proceedings: Neurological complications of DPT inoculation in infancy," Arch Dis Child 1973 Oct; 48(10):829-830.
Iakunin IuA, "[Nervous system complications in children after preventive vaccinations]," Pediatriia 1968 Nov; 47(11):19-26. [Article in Russian]
Greco D, et al, "Case-control study on encephalopathy associated with diphtheria-tetanus immunization in Campania, Italy," Bull World Health Organ 1985;63(5):919-925.
Ehrengut W at Institute of Vaccinology and Virology, Hamburg, Germany states, "Bias in the evaluation of CNS complications following pertussis immunization are the following: 1) Notifications of post-immunization adverse events, 2) Publications by vaccine producers on the frequency of adverse reactions, 3) Comparison of permanent brain damage after DPT and DT immunization, 4) Pro-immunization, 5) Immunization associated viral encephalitis, 6) Accuracy of statistics, 7) Personal. A review of these points indicates an underestimation of CNS complications after pertussis immunization."
Reference: Ehrengut W, "Bias in evaluating CNS complications following pertussis immunization." Acta Paediatr Jpn, 1991 Aug; 33(4):421-427.