A demyelinating disease is any condition that results in damage to the protective covering (myelin sheath) that surrounds nerve fibers in your brain and spinal cord. When the myelin sheath is damaged, nerve impulses slow or even stop, causing neurological problems.
"Myelination is an essential part of human brain development. Nerves can only conduct pulses of energy efficiently if covered by myelin. Like insulation on an electric wire, the fatty coating of myelin keeps the pulses confined and maintains the integrity of the electrical signal so that it has a high signal-to-noise ratio. When the insulation on a wire is damaged or destroyed, the flow of electrical current may be interrupted and a short-circuit occurs.

At birth, relatively few pathways have myelin insulation. Myelination in the human brain continues from before birth until at least 20 years of age. Up until the age of 10 or so, vast areas of the cortex are not yet myelinated. Up to the age of 20, large areas of the frontal lobes are not yet myelinated.1

Impairment of myelination can alter neural communication without necessarily causing severe CNS (central nervous system) damage.

The prefrontal portions of the cerebrum have a profound influence on human behavior.2 If an individual is injected with vaccines,most of which have adjuvants like mercury and aluminum compounds, as well as foreign proteins (some from other species in which the vaccines were grown) and biological organisms, unprotected nerves may be impacted. The argument for a role of vaccines in the development of autistic disorders hinges on these biological effects upon nerves, damaging them in a way that influences behavior and learning patterns.

The argument for adjuvants evoking an auto-immune response does not hinge on any inherent neuro-toxicity of these compounds, but on the initiation of an allergic response.

The model by which adjuvants initiate an immune response is that of Experimental Allergic Encephalomyelitis (EAE). To date, EAE is recognized as the best available animal model of several degenerative human diseases, like multiple sclerosis and post-vaccinal encephalopathies." – by Lewis Mehl-Madrona, M.D., Ph.D.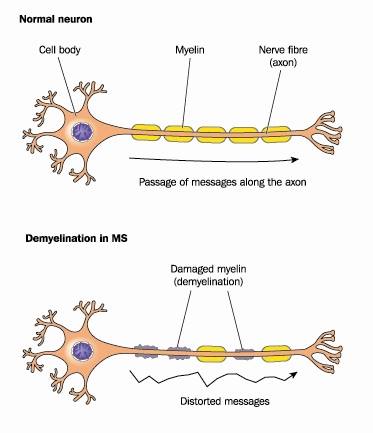 The Mechanism of Enephalitic Damage from Vaccines – Vaccination News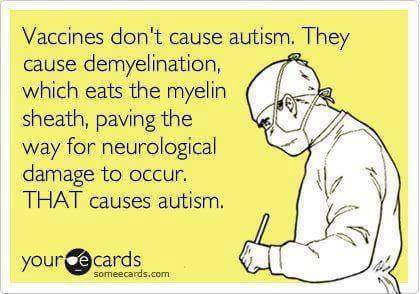 GreenMedInfo has a list of studies linking vaccination to demyelination here with a great description of each.
Edwards KM, Meade BD, Decker MD, et al. Comparison of 13 acellular pertussis vaccines: overview and serologic responses. Pediatrics 1995;96:548-57.


Orenstein WA, Brugliera PD. Preface: Immunization in medical education. Am J Prev Med 1994; 10(suppl):v-viii.

Root-Bernstein RS; Yurochko F; Westall FC. Clinical suppression of experimental allergic encephalomyelitis by muramyl dipeptide "adjuvant". Brain Res Bull, 17: 4, 1986 Oct, 473-6.
The list that follows pertaining to Demyelination is thanks to Dr. Green Mom:
Herroelen, L et al, "Central-Nervous-System Demyelination After Immunization with Recombinant Hepatitis B Vaccine", Lancet, Nov 9, 1991, 338(8776):1174-1175.
Kaplanski G, Retornaz F, Durand J, Soubeyrand J, "Central nervous system demyelination after vaccination against hepatitis B and HLA haplotype." J Neurol Neurosurg Psychiatry 1995 Jun; 58(6):758-759.
Matyszak MK, Perry VH, "Demyelination in the central nervous system following a delayed-type hypersensitivity response to bacillus Calmette-Guerin." Neuroscience 1995 Feb;64(4):967-977.
Tornatore CS, Richert JR, "CNS demyelination associated with diploid cell rabies vaccine." Lancet 1990 Jun 2;335(8701):1346-1347.
Adams, JM et al, "Neuromyelitis Optica: Severe Demyelination Occurring Years After Primary Smallpox Vaccinations", Rev Roum Neurol, 1973, 10:227-231.
In 1988, Dietrich used MRI to show that developmentally delayed children had alterations in their myelin. Coulter described that central nervous system damage can be exhibited as abnormal behavior of the child. In 1935, Thomas Rivers, experimental allergic encephalitis (EAE) can be the result of a viral or bacterial infection of the nervous system. "The fact of the matter is that it is a matter of record that it was known that vaccination produced encephalitis since 1926." The authors stated, "In regions in which there is no organized vaccination of the population, general paralysis is rare. … It is impossible to deny a connection between vaccinations and the encephalitis (brain damage) which follows it." Vaccines have been linked to seizures, convulsions and epilepsy.